Embrace change. Lead better. It all starts with a conversation.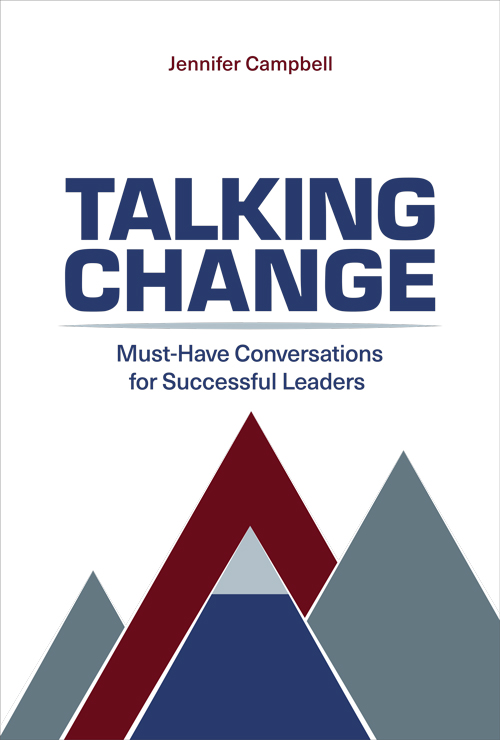 For every leader who has faced resistance to organizational change, overspent on change management initiatives, or wished there was a way to lead change right the first time, the answer is here. Buy the Amazon #1 Bestselling Book, Talking Change: Must-Have Conversations for Successful Leaders by Jennifer Campbell and Join the Conversation.
"So easy to read and apply the concepts" ~ "Worthwhile and impactful read" ~ "Excellent advice made simple"
Jennifer Campbell demystifies the world of change management and outlines the pivotal conversations that create successful and impactful change. Based on her years of leading change, from the boardroom to the plant floor, this practical and easy-to-use guide is a must-read for today's leaders.
What's Happening at AIM
Free Download
The PM's Sure-Fire Guide to Managing Change - Seven key conversations to create and carry out your change management plan! Download your free copy today. 
Signature Courses
AIM Online Learning Portal - We've launched our first self-paced, online learning program - Leading Change for Project Managers. All the skills, knowledge, and tools needed to plan and manage change successfully. We'll be adding more courses, resources, and coaching - so check in regularly. 
AIM Changer: Embrace change. Lead better. Equip your people leaders to gain buy-in and commitment to change from their teams. Leading change is core skill for any leader - in this course you will develop the skills and confidence to lead change successfully. Your people will adopt change more willingly and you'll realize the benefits of change faster, creating a competitive advantage. Contact us to bring this course in-house or pre-register your interest for the next public offering. 
Podcasts
Talking Change with Jen and Rebecca. Listen in as Jen and Rebecca discuss the 20 pivotal change conversations, including examples, stories, and tips to facilitate each conversation yourself.  
Two Minutes of Talking Change. Tips on leading change successfully, in just two minutes (sometimes three mins)!
About AIM
At Action Impact Movement, we inspire change leaders to commit to action, make an impact, and create movement that sticks.
As certified coaches with extensive consulting experience, clients seek us out to:
Coach and train leaders to inspire others to embrace change.
Facilitate conversations to engage and align teams.
Help leaders navigate disruption and resistance to realize sustainable and beneficial results in their people and organizations.