Based on many years of change management experience, we developed the AIM Change Management Roadmap to provide hands-on support and coaching to plan, communicate, execute and gain commitment to organizational and team changes.
ImpleMentor™ Coaching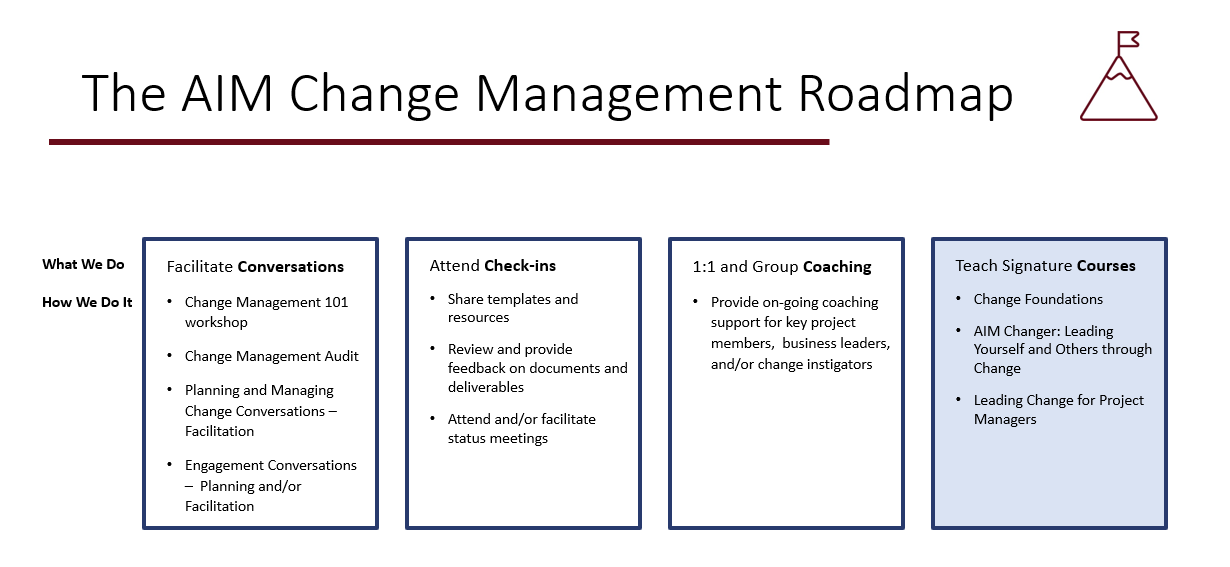 Who will Benefit from this Program?
Change instigators and leaders of organizational change
Key Takeaways
Improve chances of change success
Fast-track implementations
Unstick stalled projects
Improve dysfunctional teams
Create structure, process and habits to sustain success
Program Overview 
Meet with leaders to clearly understand the desired outcome of the planned changes
Provide a proposal to support the change management initiative. Based on needs, the proposal may include one or more of hte following: 
Coaching - One-to-one or group coaching to provide guidance and support leaders and team members to execute on change management actions 
Check ins - consulting work to develop plans, facilitate meetings, craft communications, and/or create help in the execution of actions to make the change happen successfully
Conversations - facilitated meetings to assess challenges, opportunities and team reactions to proposed changes
Courses - teach leaders, team members, and change recipients how to navigate change and work through transition. 
Delivery Logistics
Agree on deliverables and actions based on proposal. 
Testimonial
I have enjoyed working with Jen on a global optimization project and really value her professional insights and input. She is skillful at introducing clear and concise frameworks with a firm direction and plan. Jen assured success of our change management activities by introducing a process that could be operationalized and built into a continuous improvement cycle, including all collaterals to support it. Very analytical and with a keen eye for details, she is also pragmatic and suggests realistic cost-effective strategies that work.