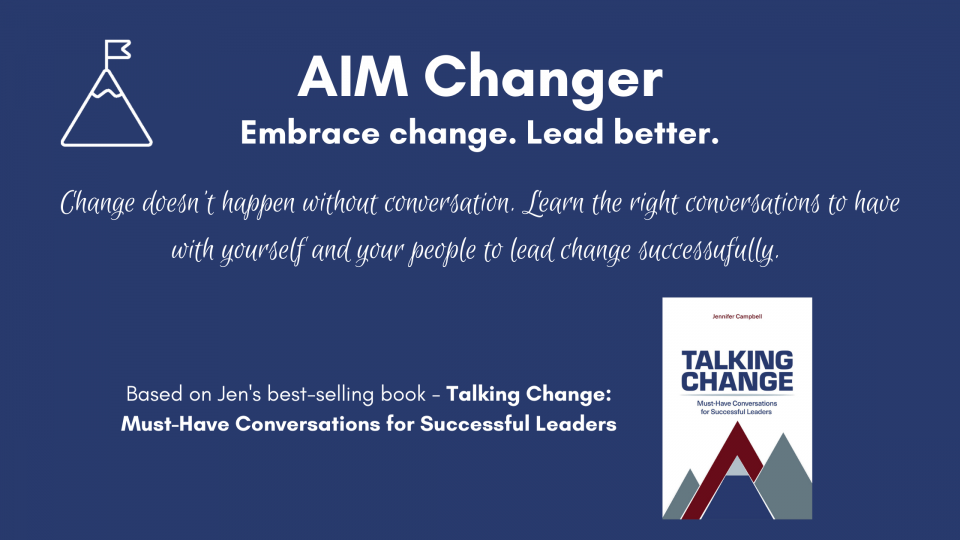 Conversation. It's a word I hear in so many contexts these days. Dr. Henry (BC's Medical Officer of Health) refers to conversations she continues to have with her colleagues to manage the response to COVID-19. Reconciliation leaders referring to the conversations needed to build a better cultural understanding and start the healing process for those impacted by Indigenous Residential Schools. The conversations I have with my clients to help them uncover solutions and make progress in their organizations. 

Having the courage to engage in conversations and to lead effective conversations that result in positive change for individuals, teams, and organizations are must-have skills for today's leaders. I have witnessed the impact of powerful questions to stop people in their tracks and see a different perspective or the value of hearing ideas from employees to make workplaces better. This is why I'm so passionate about helping people learn the skills to lead through conversation. And why I developed my AIM Changer course. It starts with an understanding of how you show up as a leader during times of change. 

AIM Changer. Embrace change. Lead better.
Program Outline 
1. Prepare Yourself to Lead Change
Personal change leadership style assessment (including a personalized Myers-Briggs® Type Indicator Impact Report) 
The impact of personality preferences and past experience when leading change
Prepare yourself to lead change action plan
2. The People Side of Change 
The people dynamics of change 
The ABC Transition Roadmap™
Recognizing and addressing resistance to change
3. Key Conversations to Navigate Change
Why conversations are needed
Who needs to be involved in conversations
What conversations will enable change
Participate in the conversations to experience the impact 
4. Gain Commitment to Change through Conversation
How to facilitate effective conversations 
Choose and plan the right conversations to lead change 
Build an action plan to lead your team through change
This is a great program for leader or manager cohorts. AIM Changer is geared towards people managers who have to lead their teams through a change they didn't necessarily chose - new systems, new processes, new team members. AIM Changer is not about change management methodology and processes, it's about how everyday leaders engage with their teams, deal with resistance, and build commitment and momentum to realize the benefits of change - through conversation. 
Find out more about the course here. Contact me to bring it in house or pre-register for a future public offering. 

p.s. Listen to my latest podcasts for ideas on how to lead change effectively through conversation: The Impact Conversation in Talking Change with Jen and Rebecca or if you only have a couple of minutes - A Gannt Chart Doesn't Equal Buy-in to Change in Two Minutes of Talking Change.